New Battery Insulating Pull Tabs
November 15, 2017
New battery insulators designed to protect batteries and circuitry during shipping and storage prior to use.
These new insulating pull tabs are installed in a product along with the batteries to act as an insulator from energizing the device prior to use. Simply pull the tab out from under the battery contact to activate the product. Lettering and arrows on the pull tabs make for simplified removal>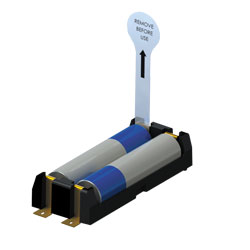 Manufactured from thin, flexible polyester, these pull tabs can be removed from a battery compartment even if the compartment is closed. For button cell through AAA Batteries, request Part number 111. For 12.7mm coin cells and AA or larger cylindrical cells, request Part Number 117. Both styles are supplied on a 3" adhesive backed carrier strip in rolls of 1,000 pieces.
Click here to learn more about all of Keystone's battery accessories
Keystone also maintains an application engineering group supported by expert stamping, machining and assembly functions.
Keystone is ISO-9001:2008 certified, RoHS compliant, with US headquarters and offices in Canada, Europe, Australia and Asia.