Fuse Holders for Solar (SPF) Midget Fuses
November 15, 2015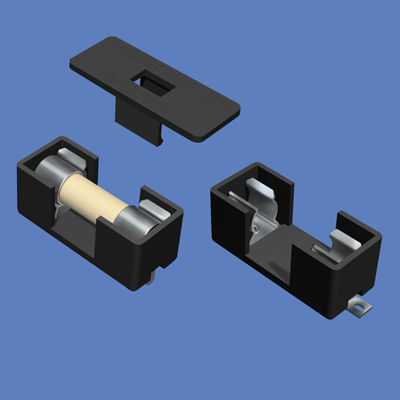 Keystone Electronics broadens it's selection of PCB & SMT Mounted Fuse Holders to include a series intended specifically for photovoltaic (PV) systems. The new fuse holders are exclusively designed to accommodate the Midget fuses (10x38mm), 5AG in the SPF Solar Protection Fuse series.
Rated for up to 30 Amps, 1,000 VDC these holders, in conjunction with the SPF fuses, are a cost-effective solution to safely protect PV modules and their conductors from reverse overcurrent conditions.
Designed to protect and insulate SPF Fuses, Keystone's new Midget Holders,(Catalog #3576 for THM applications, Catalog #3574 for SMT mounting) feature durable UL 94V-0 Nylon bodies with Tin-plated, Brass contacts enabling low contact resistance and superior durability. An optional Holder Cover (Catalog #3576C) is also offered.
Availability of the new Midget Fuse Holders, along with a wide selection of fuse clips and holders manufactured by Keystone for an assortment of fuse sizes and types, is from stock through Keystone's global distribution network. Online ordering is accommodated.