UL Recognized "Auto" Blade Fuse Holders
January 22, 2016
UL Recognized "Auto" Blade Fuse Holders

Compact 2-in-1 automotive blade fuse holders for Standard and Mini style fuses.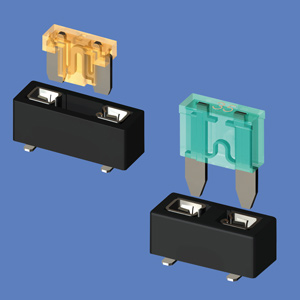 These holders offer design versatility to accept standard, "mini" and low profile "mini" size auto blade fuses with the same PCB footprint. Holders are offered in Thru-Hole (THM) (Cat. No. 3557-2) and Surface Mount (SMT) (Cat. No 3587 in bulk or 3587TR on tape and reel).
Manufactured to assure secure positioning during soldering, the holders also features fully insulated clips to protect fuses and reduce assembly time. Insulators are made of High Temp UL 94 V-0 Nylon with tin-nickel-plated Brass contacts to withstand shock and vibration. Voltage rating is 500 VAC and 20 Amps current.