Ultra-Low Profile Surface Mount Coin Cell Holders
February 4, 2014
When circuit board height is a critical design parameter, our new ultra-low profile holder for the #2032 Lithium Coin Cells is the answer. These new holders rise only 2mm above the PCB surface and are ideal for retaining cells securely under shock and vibration in high-density applications for PCB requirements.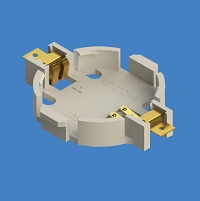 The dramatic reduction in the height of the holder on a circuit board is achieved by the unique method of partially mounting the holder thru a hole in the PCB, allowing the holder to sit through the PCB. Built In Stabilization tabs in the LCP, UL 94V-0 base add mounting security while Gold plated contacts assure increased PCB and solder joint mounting strength

These polarized coin cell holders are supplied on tape and reel (Part #1057TR) and in bulk (Part #1057) and feature dual–spring contacts and. Importantly, the holders may be used with most vacuum and mechanical pick-and-place assembly systems.