Ultra-Low profile Retainers for 20mm Coin Cell Batteries
February 19, 2016
Ultra-Low profile Retainers for 20mm Coin Cell Batteries
A new series of ultra-low profile Coin Cell Retainers for 20mm coin cell batteries, suited for high density PCB packaging.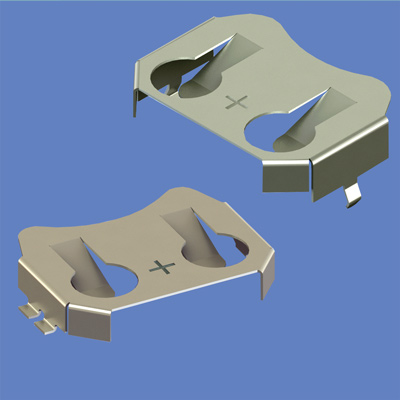 Retainers accept the popular 2020,2025 and 2032 coin cell batteries from all major manufacturers. Compatible with all soldering and reflow operations. Importantly these retainers are manufactured of Phosphor Bronze and the SMT versions have solder tails located outside of retainer body to facilitate visual inspection of solder joints.
For Surface mount versions are supplied with a tin-nickel plate for high temperature soldering applications. Request (Catalog#3034) in bulk or on tape and reel (Catalog #3034TR). SMT retainers are also available with Matte Tin Plate for lower soldering applications. Compatibility with most vacuum and mechanical pick and place assembly systems, are an added feature. For thru-hole applications, request Catalog #3035.