Coin/Button Cell - Holders, Thru-Hole and Surface Mount
Lithium Coin Cell Battery Holders
(THM) Thru Hole Mount & (SMT) Surface Mount - Available for 12mm, 16mm, 20mm, 23mm, 24mm and 30mm Dia. Cells
The Compact and Vertical Holders allow battery insertion and replacement from the top, ideal for high density packaging, which maximizes board placement choices. The Thru-Hole Mount (THM) version features an "air-flow" support leg design that facilitates soldering and quick battery insertion. The Surface Mount (SMT) version features a "flow-hole" solder tail design for increased solder joint strength and are available on tape and reel.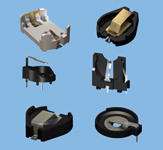 These holders are manufactured from UL rated 94V-O materials. Contacts made of high quality spring steel to assure reliable connections and allow contact resistance. Each contact is clearly marked with its polarity to assure proper battery insertion.
Lightweight and rugged, these PCB coin cell holders offer uniquely designed notched battery slot that assures quick and easy insertion and replacement of all major battery manufacturers' lithium coin cells.
Coin Cell Retainers ("Compact Contacts") are also available in Thru-Hole Mount and Surface Mount on tape and reel.
IDEALLY SUITED FOR...
Duracell, Eveready, Panasonic, Ray-O-Vac, Sanyo, Varta, Toshiba, Seiko and other major battery manufacturers
Computer memory, power transfer and back-up systems
Video and telecommunications power back-up
Preprogrammed video and electronic games
Microprocessors and Microcomputer memory hold
Notebook and lap top applications
Emergency power systems
Industrial and commercial security and alarm systems
Communications power sources
Miniaturized battery power devices
DESIGN ADVANTAGES...
Low profile for high density packaging
Reliable spring tension contacts assure low contact resistance
Retains battery securely to withstand shock and vibration
Rugged construction, light weight
Unique notched battery slot assures quick and easy battery insertion and replacement
Compatible with vacuum and mechanical pick & place systems
Base material UL rated 94V-0. Impervious to most industrial solvents
THM "air-flow" design pattern enhances air circulation around battery
SMT "flow-hole" solder tail design for increased solder joint strength.
Clearly marked polarities to help guard against improper insertion
For detailed drawings, specifications and applications data, Contact Us by e-mail or please contact our Customer Service Department at (800) 221-5510 or (718) 956-8900 or by Fax (718) 956-9040.
Availability is from stock through Keystone's Global Distributor Network. Application engineering services are available to meet special customer requirements.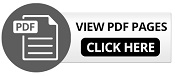 Refer to Keystone's Full Line Catalog for our complete product offering and specifications.
Back to Previous Page