Advanced Fan Guard/Filter Assemblies
May 28, 2013
A new series of superior air-flow, Fan-Guard/Filter Assemblies designed to protect sensitive PC 's, and a host of electronic apparatus, switching equipment, telecom panels and other devices is now available from Keystone Electronics.
These durable, sturdy multi-element assemblies deliver a consistent, 24 CPM air flow, greater particle security and minimized fan noise. The Guards and Retainers are manufactured from high strength, glass-filled Nylon while the Media filters are made from Polyester foam plus Aluminum screens. Size availabilities range from 1.5" to 4.5" diameters.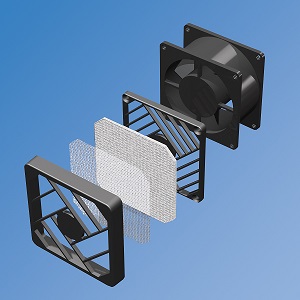 Importantly, a "Snap-Fit" Filter and Retainer design contributes to simplified installation, maintenance and filter media replacement - all accomplished with the Guard remaining firmly in place. As a consequence, fan blades are protected from damage as well as any device undergoing cleaning.
These new Fan Guard Assemblies complement Keystone's current product line of 1.5" to 10" diameter metal guards and are the latest examples of Keystone's innovative, leadership role for engineering quality interconnects, hardware and components.